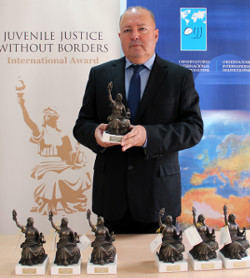 Dr. Francisco Legaz Cervantes
Chairman, International Juvenile Justice Observatory (IJJO)
Welcome words of the 'Juvenile Justice Without Borders' International Award on its 5th Edition, 2018
"Dear friends of the International Juvenile Justice Observatory. As Chairman of the IJJO, I want to begin by saying what a great honour it is for our organisation and for myself to celebrate the 6th Edition of the 'Juvenile Justice Without Borders' International Award.
This award, which celebrates its tenth anniversary today, was created by the Observatory with the aim of recognising and raising awareness about the great work, professionalism, and firm commitment of people and organisations who, from different fields, promote the rights of children and young people who come into contact with justice systems.
Through this recognition, the IJJO seeks to raise awareness within society as a whole about the reality of these children and young people, as well as the great achievements and advances in the most relevant issues of Juvenile Justice."
IJJO Chairman's full welcome speech, presenting the awardees
The awardees of this Sixth Edition are:
African Child Policy Forum
Represented by Dr Joan Nyanyuki, Executive Director
Awarded for its coordinated work in the field of juvenile justice, including research, training, advocacy, legal assistance and dissemination, with the aim of achieving the implementation and enhancement of child-friendly justice and sustainable child protection structures in African justice systems, in line with the United Nations' international standards.
Moreover, the IJJO wishes to highlight the Forum's extensive online database and resource centre on the state of justice for children and young people in Africa, with useful information for the promotion, investigation, implementation, and monitoring of laws, policies and standards which serve to adapt justice systems to be suitable for children and protect children's rights.
"We at the African Child Policy Forum have a keen focus on African children at the margins, including those in contact or in conflict with the law. We therefore take this award, not just as a recognition of our past efforts, but also as an inspiration to sustain these efforts towards promoting child friendly justice systems in Africa, with more vigour and greater drive."
Dr Joan Nyanyuki, Executive Director
African Child Policy Forum (ACPF)
The African Child Policy Forum (ACPF) is an independent, not-for-profit, Pan-African Institute of policy research and dialogue on the African child.
ACPF was established with the conviction that putting children first on the public agenda is fundamental for the realization of their rights and wellbeing and for bringing about lasting social and economic progress in Africa.
ACPF's work is rights based, inspired by universal values and informed by global experiences and knowledge and is committed to Internationalism. Its work is guided by the UN Convention on the Rights of the Child, The African Charter on the Rights and Welfare of the child, and other regional and international human rights instruments. ACPF aims to specifically contribute to improved knowledge on children in Africa; monitor and report progress; identify policy options; provide a platform for dialogue; collaborate with governments, inter-governmental organisations and civil society in the development and implementation of effective pro-child policies and programmes and also promote a common voice for children in and out of Africa.
Its vision is "An Africa where every child enjoys all rights and develops to reach his or her full human potential."
Its mission is to work towards "A More Child-friendly and Accountable Africa."
ACPF's Website: www.africanchildforum.org/index.php/en
Dr Joan Nyanyuki
Executive Director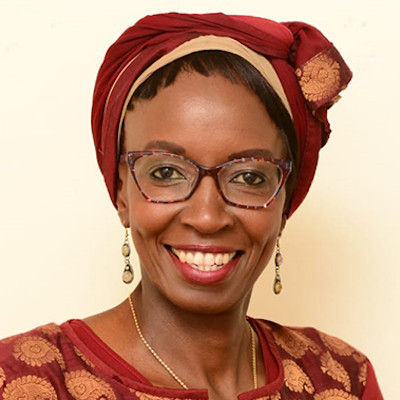 Dr Joan Nyanyuki is the Executive Director of African Child Policy Forum, a Pan-African centre for policy advocacy and dialogue on the African child rights.
Dr Joan Nyanyuki is Co-Chair of Executive Committee of Global Partnership to End Violence against Children and Chairperson of African Partnership to End Violence. She has championed human rights, gender justice, equality and women's rights in strategic leadership roles in national and international NGOs. She has a wealth of progressive experience in human rights research and advocacy and organizational leadership through her past roles as Amnesty International's Regional Director in East Africa and The Great Lakes Region, as Executive Director of Coalition on Violence against Women and Independent Medico-Legal Unit.
Dr Nyanyuki began her career as a medical doctor, working with survivors of torture and sexual violence before transitioning into human rights and gender equality work.

Danila Dilba Health Service
Australia
Represented by Olga Havnen, Chief Executive Officer
Awarded for its continuous work using a holistic approach to attend to the needs of young people in conflict with the law and at risk of social exclusion, and in particular Indigenous young people, who are over-represented in Australia's juvenile justice system. The IJJO wishes to highlight Danila Dilba's work in providing support to these young people, both in the area of health and well-being and in matters of the law.
Equally, the IJJO underscores the work performed by Danila Dilba in their advocacy for the rights of these young people before responsible institutions and within the Australian media, expressing their needs and requests and condemning the lack of necessary services for them.
"I'm hoping that perhaps elsewhere in Australia we'll start to see Aboriginal health services providing primary healthcare in juvenile detention facilities, being able to do the therapeutic kind of work that these kids need, but more importantly working with them to help them build a better future and to have a better life for themselves and their own children."
Olga Havnen, Chief Executive Officer
Danila Dilba Health Service
Danila Dilba is an Aboriginal community-controlled health organisation delivering comprehensive primary health services to Aboriginal and Torres Strait Islander people in Darwin, Northern Territory, Australia.
Our vision is 'that the health, well-being and quality of life of Aboriginal and Torres Strait Islander Australians equals that of non-Indigenous Australians.' To achieve this, we have adopted a 'whole of life' approach to the health of our clients, meaning that we look to the social determinants which drive inequities in health outcomes and strive to improve those outcomes through our services and advocacy. Recognising the overlapping vulnerabilities that lead people with poor health outcomes to come into the justice system, we have taken on an increasingly active role in this space.
In 2016, shocking footage was aired by the 'Four Corners tv program' showing harrowing abuse inflicted on children in the Don Dale Youth Detention Centre, where nearly 100 per cent of children in detention were Aboriginal. The footage exposed evidence of children, sometimes as young as 10, being stripped naked and left alone in isolation for days. Children being bullied, harassed and abused by the people employed to care for them. In response, the then Prime Minister Malcolm Turnbull called the Royal Commission into the protection and detention of young people in the NT.
Days later, the NT government approached us to provide a service to support the social and emotional wellbeing of children at Don Dale and to provide an 'observer' and information gathering role focusing on youth wellbeing. We appointed two experienced Aboriginal youth officers (male and female) who completed Monitoring and Observation training with the Australian Red Cross. DDHS's function at Don Dale has evolved over time since it started in this role. The youth social support team continue to provide social, emotional wellbeing support and programs at Don Dale.
Over the years, we have continued to advocate for fundamental reform, and the adoption of a genuinely therapeutic approach. As a result of our advocacy and persistent engagement with government, Danila Dilba recently opened a clinic at Don Dale to provide primary health care services to children in detention. This made us the first Aboriginal community-controlled health service to be based full-time within a detention centre providing primary health care. This has presented us with a significant opportunity to improve the health and wellbeing of young detainees.
However, whilst having Aboriginal community-controlled organisations delivering these services is a step in the right direction, we know that we still have a long way to go. Through our work at Don Dale, we have seen the child protection and justice systems continue to fail to provide appropriate diagnostic assessments, therapeutic supports and interventions for the NT's most vulnerable children.
We continue to be concerned by the detention of children, sometimes as young as 11 years old, with diagnosed or suspected neurodisability (e.g FASD), in a facility that the Royal Commission into Protection and Detention of Children in the NT found was "not fit for accommodating, let alone rehabilitating children and young people". We have also observed the difficulty that youth detention staff and management face in trying to appropriately manage children with FASD or undiagnosed neurodevelopmental impairments. In this context, it is unsurprising that 80 per cent of children return to detention within three weeks of release.
It is clear that we are still a long way from the fundamental systemic reforms promised by government at the time of the Royal Commission, over three years ago. As there is very little evidence of best practice in this area in Australia, we believe we must look carefully to effective international approaches.
Danila Dilba is honoured to be recognised for our work, although we know that there is still much to be done. We are grateful for this award and the recognition it will provide us to continue our advocacy in the future. Danila Dilba is committed to continuing to advocate for fundamental reform, achieving better outcomes for children, their families and our community. We look forward to using this award and its recognition to help us in achieving this.
Danila Dilba's website: www.ddhs.org.au
Olga Havnen
Chief Executive Officer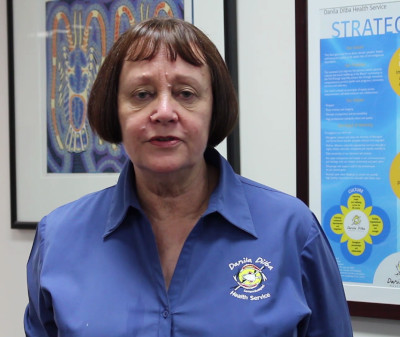 Olga Havnen is a Western Arrente woman, the CEO of Danila Dilba Health Service (DDHS). DDHS is an Aboriginal Community Controlled Health Organisaion located in Darwin, in the Northern Territory (NT) of Australia.
Over the past three years, in response to concerns regarding systemic issues in the NT's justice and child protection systems, Olga has directed and overseen a program of research regarding evidence for effective approaches to youth justice nationally and internationally. Olga gave evidence to the Royal Commission into the Protection and Detention of Children in the NT, and has been called as an expert witness on the health and cultural needs of Aboriginal children in the justice system, and Aboriginal people in prisons. She was a founding patron of the Justice Reform Initiative – a multi-partisan alliance of Australians committed to reforming the criminal justice system – and has been involved in several key government and non-government working groups and forums.
In her role as CEO at DDHS, Olga has led and learned from programs and services for vulnerable young people and families in the Darwin and Palmerston region. Specifically, she has been responsible for overseeing the DDHS Youth Social Support Program at Don Dale, which works closely with young people in detention (who are often also in the care of Territory Families) and acts as an independent advocate on issues such as living conditions and measures to support their health and wellbeing. She has also been responsible for the transition of the primary health service at Don Dale from Top End Health Service to DDHS in July 2020, and DDHS' youth diversion program since April 2020.
Olga has held positions as the Aboriginal and Torres Strait Islander Programs Co-ordinator for the Australian Red Cross, Senior Policy Officer in the Northern Territory Government's Indigenous Policy Unit, Indigenous Programs Director with the Fred Hollows Foundation, and Executive Officer with the National Indigenous Working Group. Prior to her role as CEO at DDHS, Olga was the NT Coordinator General for Remote Services (October 2011 - August 2012) with functions and powers similar to those of the Commonwealth Coordinator General for Remote Indigenous Services. Her role was to oversee, monitor, assess and advise with respect to development and delivery of government services and facilities in the 20 Territory Growth Towns.
Olga is passionate about addressing the overlapping health and social issues that affect Aboriginal people across Australia.

The Education for Justice Initiative, part of the Doha Declaration Global Programme at the United Nations Office on Drugs and Crime
Represented by Marco Teixeira, Senior Programme Officer and Global Programme Coordinator, United Nations Office on Drugs and Crime
Awarded for its work in providing a wide range of effective educational materials on justice and justice systems, adapted for young people in primary, secondary, and tertiary education and available in various languages. These materials, both educational and recreational, present concepts which are essential for the development of young people in society, encouraging a culture of knowledge of and respect for the law, human rights, and fundamental liberties.
The IJJO wishes to underscore the value of these materials in teaching young people the essential role that crime prevention and criminal justice institutions play in the rule of law and promotion of peace.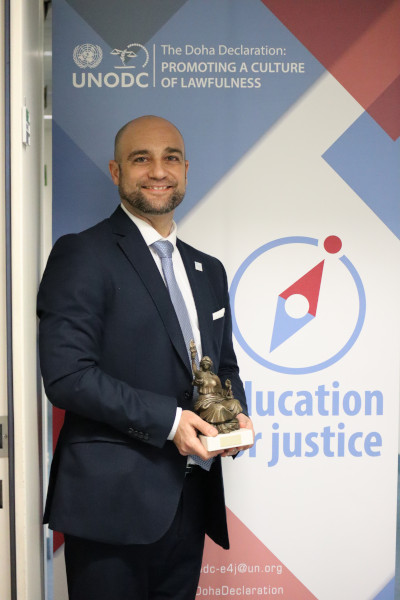 "2020 has been an abnormal year on so many fronts. The challenges faced by all parts of society in all corners of the globe have been unprecedented. And yet as we know all too well, out of crises come opportunity. It's now crucial that we reconsider existing forms of education and ensure that values such as integrity, justice, equality and respect are key aspects included in a rebuilt and reimagined global curriculum. If, collectively, we are to create a more just and prosperous post-COVID world then it is clear that partnerships, including with educators, is more crucial than ever. Capacity-building on rule of law education, and the provision of quality resources and tools compiled with global expertise and the opportunity to exchange experiences and good practices is essential."
Marco Teixeira, Senior Programme Officer and Global Programme Coordinator, United Nations Office on Drugs and Crime
The Education for Justice Initiative, part of the Doha Declaration Global Programme at the United Nations Office on Drugs and Crime
Following the 13th UN Congress on Crime Prevention and Criminal Justice in 2015, UNODC established the Education for Justice (E4J) initiative. This innovative approach drastically renewed the global approach towards crime prevention by promoting the rule of law from the bottom up – in other words, empowering children and youth to promote peace and justice through education. At the heart of E4J is the belief that the rule of law must be holistic and inclusive.
By working with thousands of educators, academics and students worldwide, E4J is reinventing the way these actors engage with the international community. E4J is building new institutional bridges where these partners co-lead the design, testing and delivery of tools and activities at all stages of the process, de facto setting up new sustainable ways to make teaching on the rule of law an increased priority in alignment with the 2030 Agenda for Sustainable Development.
Please find more information, including education resources, here
Education for Justice's website: www.unodc.org/e4j/en/index.html
Marco Teixeira
Senior Programme Officer and Global Programme Coordinator, United Nations Office on Drugs and Crime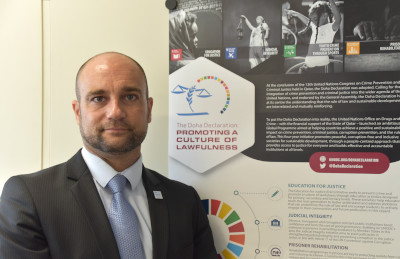 Portuguese national, Marco Teixeira, joined UNODC in 2011 and the Corruption and Economic Crime Branch, Division for Treaty Affairs, of UNODC in January 2019 as the Senior Programme Officer and Coordinator of the Global Programme for the Implementation of the Doha Declaration. He leads a team of dedicated professionals, both in Vienna and in the field, responsible for providing technical assistance and the dissemination of materials and tools related to education, youth crime prevention through sports, judicial integrity and the rehabilitation of prisoners.
Mr. Teixeira previously held positions in the Organized Crime Branch of UNODC, where he led the efforts of the global programme related to narcotics control and law enforcement capacitybuilding and international cooperation covering 12 Countries in West Africa and Latin America.
Prior to relocating to Vienna, Mr. Teixeira served as UNODC Head of Office in Guinea-Bissau and Liberia and as Chief of Illicit Trafficking, Organized Crime and Terrorism Section at the Regional Office in Senegal responsible for West and Central Africa, where he provided guidance for a multitude of programmes, projects and initiatives aimed at strengthening regional and global responses to organized crime and other forms of illicit trafficking including the implementation of capacity building to law enforcement agencies.
Passionate about his work, Mr. Teixeira champions a holistic managerial approach, based on knowledge sharing, productive team engagement and extensive coordination. Mr. Teixeira professes keen personal interest in practical developments and scholarly achievements in the areas of crime prevention, law enforcement cooperation and counter-terrorism, avidly incorporating best practices and the most recent advancements into work processes and conceptual designs of substantive components of the Programme. Prior to joining UNODC, Mr. Teixeira worked for the Portuguese Public Security Police in a variety of managerial roles with a focus on criminal investigation management from 2000 to 2011, including in a secondment to the UN Special Political Mission (UNIOGBIS).
Mr. Teixeira has extensive academic experience in teaching postgraduate and specialized courses with focus on criminal justice, criminology and organized crime. Mr. Teixeira has a Bachelor's degree in security studies (internal security and law enforcement agencies), two post-graduate courses related to criminal justice and a Master's degree in psychology (with specialization on violence, victimology and criminology).
Ultimately, Mr. Teixeira was numerous times officially commended by a number of National and International Institutions and also was awarded the United Nations Special Service Medal (UNSSM), as well as the "10 years Service" Medal and the "Exemplar Performance" Medal issued by the Public Security Police of Portugal.
Inter-American Children's Institute (IIN)
Represented by Víctor Alberto Giorgi Gómez, Director General, and Esteban de la Torre Ribadeneira, Coordinator of the Legal Area
Awarded for its involvement in the development of juvenile justice systems in Latin America, through its work in the generation of content, procedures, and tools for the implementation and monitoring of policies, strategies and actions to guarantee the rights of children and young people in these systems, at both a national and regional level.
In this way, this award recognises the IIN's work as a technical-political reference point at a regional level in matters concerning children and young people's rights in the field of juvenile justice within the Inter-American Human Rights System and in accordance with the United Nations' international standards.
"The IIN, in compliance with its institutional mission to strengthen the capacities of the states for the promotion and protection of rights, for 10 years has been working on the issue of adolescent criminal responsibility, or juvenile criminal justice, incorporating it as a strategic line in its plans for action, always having as the main objective to reduce the levels of violence and contribute to making the maxim that deprivation of liberty is the last measure and used for the shortest possible time."
Víctor Alberto Giorgi Gómez, Director General
Inter-American Children´s Institute (IIN)
The Inter-American Children´s Institute (IIN) is the Specialized Organization of the Organization of American States (OAS) on children and adolescents. As such, the Institute assists States with developing public policy, contributing to policy design and implementation from the perspective of the promotion, protection and respect for the rights of children and adolescents.
The IIN´s highest authorities are its Directing Council, represented by the most senior authorities on childhood from the member states of the Inter-American System. This positions the Institute as a space for crafting consensus and commitments by the governments, as an articulator within the Inter-American System and as a technical reference point at the regional level on issues of children and adolescents.
IIN website: www.iin.oea.org/en/index.html
Víctor Alberto Giorgi Gómez
Director General
Of Uruguayan Nationality. He received a bachelor's degree in Psychology from the Faculty of Medicine and the University School of Psychology in May 1977.
He began his career as a university professor in 1980, reaching the highest level of professorship in 1992 (Senior Lecturer G5 of Community and Health Psychology), a position which he held until 2017.
He coordinated the Psychology and Human Rights Programme of the Psychology of Health Institute – Faculty of Psychology - University of the Republic – UDELAR.
He is the Academic coordinator of the master's degree in Children's Rights and Public Policy. The degree is an interdisciplinary programme within the framework of the Faculties of Social Sciences, Law, Medicine, and Psychology.
He is the author of a significant number of books and articles on topics of Social and Community Psychology, Health, Children's Policies, and the Rights of the Child.
He was Chairman of UDELAR's Faculty of Psychology between 1999 and 2007.
During the years 2005-2009 he was President of the Institute of Children and Adolescents of Uruguay (INAU), the state's governing organisation for policies concerning childhood and adolescence. From that position, he represented Uruguay in various international forums, among which was the Directing Council of the Inter-American Children's Institute (IIN).
In 2009 he joined IIN as a consultant and one year later was appointed Coordinator of the Area of Promotion and Protection of the Rights of the Child. In April 2015 he was made Director General for a 4-year term and in October 2018 he became Secretary General of the OEA for a second 4-years term.
Esteban de la Torre Ribadeneira
Coordinator - Legal Area
Esteban de la Torre Ribadeneira is a lawyer with a master's degree in Administrative Law and Rights and Development Cooperation in Childhood and has a bachelor's degree in Social Management and Youth Policy.
He was a legal advisor for the then National Council of Childhood and Adolescence, the governing organisation of the Decentralised National System of Comprehensive Protection of Children and Adolescents of Ecuador, consulting for the Board, its Executive Secretary, and coordinating the teams for legal counsel, security, and enforcement of rights. His work was officially recognised by the organisation.
Since 2010, he has been the Coordinator of the Legal Area of the Inter-American Children's Institute (IIN), an organisation specialised in children, within the Organisation of American States. The legal area, together with the Directorate General of the IIN, is in charge of the implementation of IIN's Action Plan in relation to various programmes, including as a primary line of work the topic of Adolescent Criminal Responsibility or juvenile justice. In this position, he has promoted training actions, and participated in the development of various related documents, reports, technical assistance processes and spaces of exchange of experiences and practices.
He has also been a university professor and occupied other institutional positions.
Judicial School of the General Council of the Judiciary of Spain
Represented by Jorge Jiménez Martín, Director
Awarded for its excellence in its initial and continued training of members of the Spanish judiciary, facilitating the acquisition of the knowledge and skills needed to provide citizens with high-quality justice. In particular, the IJJO would like to express its gratitude for the efforts made in respect to the specialisation and regular updating of training for juvenile justice judges.
The IJJO also highlights the Judicial School's work in the establishment of cooperation and exchange opportunities with other training centres for judges within the European Union and Ibero-America.
"Receiving this award represents a strong and important incentive to continue providing specialised, multidisciplinary, and high-quality judicial training, and, in particular, to continue developing training actions with the goal of improving juvenile justice and protection systems to make them more effective in protecting the rights of children and young people. We will continue working to provide the necessary competencies, skills, and attitudes to those who serve in juvenile courts and those who, from their relevant jurisdictions, will participate in proceedings involving children and young people in various ways. Our goal is to achieve a justice that is better suited to children and in which their rights and legal safeguards are protected."
Jorge Jiménez Martín, Director of the Judicial School
Judicial School of the General Council of the Judiciary of Spain
The Judicial School is the technical body of the General Council of the Judiciary responsible for developing and implementing the competencies related to the selection and training of judges and magistrates according to the guidelines set forth in the Organic Law of the Judiciary and in the Regulations of the Judicial School. The organisation is integrated into the General Council of the Judiciary, and both its budget and organisation depend on it.
The Judicial School's work is twofold. On one hand, it is in charge of the selection and training of judges who have joined the judiciary, either via public examinations or through evidence of extensive expertise as jurists, and on the other hand it is responsible for the continuous training of all members of the judiciary, continuing to guarantee the highest possible level of capacitation.
The Judicial School has two permanent headquarters, one in Madrid where the majority of the continuous training activities are located, as well as the selection section, and another in Barcelona where the initial training courses are carried out and a large part of the international judicial training activities take place, which are done in connection with the European Judicial Training Network (EJTN), the Iberian American Network of Judicial Schools (RIAEJ), and the Euro-Arab Judicial Training Network (EAJTN).
Regarding the Ibero-American field, it is worth highlighting the programme 'Ibero-American Classroom', in which different institutions and entities have collaborated since 1997, and the Specialised Judicial Training course for judges and other members of the Ibero-American Judiciaries, which has been carried out since 2013.
The establishment of the Judicial School, nearly 24 years ago now, signified a radical change in the way judges were being trained until that point, as it stopped depending on the government and was taken on in its entirety by the General Council of the Judiciary. This allowed the school to provide members of the Judiciary, and those who aspire to join it, with a training that is different from all other legal professions, an integral, multidisciplinary, and high-quality training.
Since the School's foundation, the training in subjects and fields that affect children and young people in conflict with the law or at risk of social exclusion has been a constant. Not only has it offered training to different generations of specialists in the field of juvenile justice, but it has also introduced, into both the initial and continuous training, modules on the child protection system, family law issues in relation to juvenile justice, detention of children, treatment of children who are victims of crime, use of appropriate language for children, study and development of the best interests of the child and their right to be heard in accordance with Directive 2016/800/EU from May 11 on procedural safeguards for children suspected or accused in criminal proceedings, and regulations and treatment of foreign or unaccompanied children, among others. All of this is part of a constant search to achieve child-friendly justice, based in the development of competencies, skills, and attitudes, rather than theory.
This effort, focused on offering training on subjects and matters concerning children and young people, has equally been made in the international training fields in which the Spanish Judicial School operates: European, Euro-Arabian, and Latin-American. In the Latin-American field, within the Iberian American Network of Judicial Schools (RIAEJ), the Judicial School actively participates in working towards a strategic goal approved by the General Assembly for 2019-21: the comprehensive protection of children and adolescents.
The Judicial School's website:
https://www.poderjudicial.es/portal/site/cgpj/menuitem.87fc234e64fd592b3305d5a7dc432ea0/?vgnextoid=a088bf8d162da510VgnVCM1000006f48ac0aRCRD&vgnextlocale=en&vgnextfmt=default&lang_choosen=en
Jorge Jiménez Martín
Director
Jorge Jiménez Martín is a magistrate. He began his judicial career in 2001. He has worked in the Magistrate's Court noº 1 of Alcalá la Real (Jaén), Magistrate's Court noº 5 of Marbella (Málaga), Criminal Court noº 5 of Almería, Juvenile Court of Huelva, and Juvenile Court noº 6 of Barcelona. Since July 2018, he has been the Director of the Judicial School, responsible for the design, management, and development of the initial and continuous training of all judges and magistrates, as well as the international training offered each year to members of the judiciary. He has also been the Director of the Selection and Initial Training Service of the General Council of the Judiciary between January 2015 and 2018. From September 2011 to January 2015, he was a professor of the Area of Criminal Law and Criminal Procedural Law of the Judicial School. He has also been an associate professor of the University of Almería.
He graduated with a degree in Law from the University of Granada. He is preparing a PhD in the area of Criminal Procedural Law at the University of Valladolid on minors' right to legal defence. He is certified as a Trainer in The European Programme on Human Rights Education for Legal Professionals in the 28 EU Member States ("HELP in the 28") and as a Trainer in the United Nations' Global Judicial Integrity Network's "Judicial Ethics Training Programme".
He is a specialist in juvenile justice, criminal law, and criminal procedural law. He is an international consultant in the framework of curriculum design, training and methodologies, strengthening of the judiciary, access to justice, restorative justice, criminal mediation, procedural law, criminal law, and criminal juvenile justice.
He is a member of the research team "Procedural Safeguards of those suspected and accused: the need for coordination and strengthening in the field of the European Union", linked to the Institute of European Studies of the University of Valladolid – "Centre of Excellence "Jean Monnet"" -, which is focused on the development and analysis of procedural safeguards for children suspected or accused in criminal proceedings, in relation with Directive 2016/800/EU from May 11. He has produced publications in the criminal and juvenile justice fields.

Juvenile Law Center
United States of America
Represented by Susan Vivian Mangold, Esq., Chief Executive Officer
Awarded for its extensive work as a non-profit, public interest law firm in contributing to the development and reform of laws and policies which support young peoples' rights in the United States justice and welfare systems, from an approach informed by research, consistent with children's developmental needs, and reflective of human rights values.
Equally, the IJJO wishes to highlight the wide variety of ways in which the Juvenile Law Center has effectively fought for the rights of young people who have come into contact with the justice and welfare systems, including litigation, appellate advocacy, submission of amicus briefs, policy reform, professional education and training, consulting, youth advocacy, and strategic communications.
"Juvenile Law Center is very honored to accept the Juvenile Justice Without Borders International Award in recognition of our work. We are proud to join past recipients and applaud our fellow recipients. The award is especially meaningful to us as we continue to expand our work to bring adolescent developmental science into the law of the United States and around the world."
Susan Vivian Mangold, Esq., Chief Executive Officer
Juvenile Law Center
Juvenile Law Center stands with youth when systems meant to serve them fall short.
In 1975, four Temple Law School graduates saw a need for an organization dedicated to youth rights. Together, they founded Juvenile Law Center to advocate for rights, dignity, equity and opportunity for youth in the child welfare and justice systems – youth who often have no one in their corner.
We started as a non-profit public interest law firm directly representing individual youth, but soon realized our victories would be temporary or limited unless we tackled far-reaching problems caused by systemic failures across the country. Our work evolved, and our reach grew. Today, we are a national advocacy organization fighting for youth and families affected by the child welfare and justice systems.
This strategic shift coincided with ill-conceived policies in the late 80's and 90's which pushed an unprecedented number of youth into both systems: the "war on drugs," welfare "reform," and misguided hysteria about the myth of "super-predator" children. We responded to these threats at the highest level possible: the Supreme Court of the United States. Our efforts were pivotal in several landmark Supreme Court rulings, including:
Roper v. Simmons (2005), abolished the death penalty for youth
Graham v. Florida (2010), banned juvenile life without parole sentences in non-homicide cases
J.D.B. v. North Carolina (2011), found age relevant when determining whether youth reasonably believe that they are "in custody" and therefore subject to a Miranda warning
Miller v. Alabama (2012), ended mandatory juvenile life without parole sentences in homicide cases
Montgomery v. Louisiana (2015), applied Miller retroactively to cases closed before 2012
Juvenile Law Center's role in the Luzerne County "kids-for-cash" case – one of the most egregious judicial scandals in U.S. history and which violated the rights of thousands of children – made national and international headlines.
Our national work led to global recognition. Our founders taught trial advocacy and lectured on the American juvenile justice system in Japan; they helped to launch the Child Law Clinic at the School of Law, University College Cork in Ireland; they spoke to jurists and academics building a legal system for children in China; they gathered in Cape Town, South Africa to help develop a legal system for youth in trouble with the law. Today, our staff speaks at events worldwide, and regularly connects with international journalists looking to understand the American justice and child welfare systems.
We ensure laws and policies advance racial and economic equity, and are rooted in research, consistent with children's unique developmental traits, and reflect international human rights values. In 2008, we started our Youth Advocacy Program to put youth experience and expertise at the center of our advocacy strategies, with three components: Juveniles for Justice, Youth Fostering Change, and our Alumni Speakers Bureau.
Our approach is multi-pronged and includes: impact litigation, appellate advocacy and amicus (friend of the court) briefs, policy reform, education and training, professional consulting, youth advocacy programming, and strategic communications.
We're leaders in the fight for youth rights. Some of the issues we work on include: banning solitary confinement; abolishing juvenile sex offender registries; limiting the prosecution of children as adults; preventing youth homelessness; reducing the number of youth who "age out" of foster care and, for those who do, demanding appropriate planning to help them transition to adulthood successfully; eliminating fees and costs in the juvenile justice system; ending juvenile life without parole, "virtual life" or other harsh adult sentencing for youth; and ensuring educational success for youth in the child welfare and justice systems.
Through our work:
We are involved in approximately 100 cases annually in jurisdictions nationwide.
We offer litigation support and technical assistance on hundreds of cases involving juvenile life without parole resentencings across the country.
We provide technical support when cities and states reform their child welfare policies.
We provide essential support to youth advocates so they can be effective agents of change, reaching an audience of over 3,200 stakeholders through dozens of presentations each year.
Juvenile Law Center's work affects everyone because we focus on enforcing the rights of some of society's most vulnerable people: youth in the child welfare and justice systems. We know that when children thrive, communities thrive. Together, we can stand up for rights, dignity, equity, and opportunity for youth nationwide.
Juvenile Law Center's website: jlc.org
Susan Vivian Mangold, Esq.
Chief Executive Officer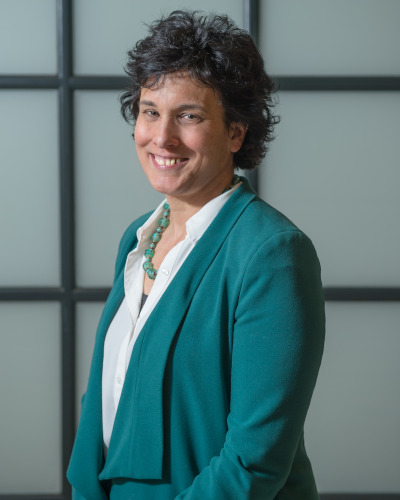 Susan Vivian Mangold joined Juvenile Law Center in October 2015. She is a Professor Emeritus at University at Buffalo School of Law, where she taught for over 20 years and served as Vice Dean for Academics. Her teaching and scholarship focused on Children and the Law. Mangold was also Chair of the University-wide Strategic Strength in Civic Engagement and Public Policy, and brings her expertise in community-based research to Juvenile Law Center.
She is co-editor of West Publishing's casebook, Children and the Law: Doctrine, Policy and Practice (7th Edition, 2020). The author of numerous articles on the child welfare system, she was the primary investigator for a project funded by the Public Health Law Research Program of the Robert Wood Johnson Foundation to study the impact of different types of funding on long-term outcomes for children in foster care.
Mangold is a graduate of Harvard College where she co-chaired the Big Brother/Big Sister Program, then founded Cambridge Youth Enrichment Program (now Summer Urban Program) so the little brothers and sisters would have educational and recreational programs in the summers. This experience led to a post-college job as Program Director at a Girls Club (now Girls Inc.) in Massachusetts, providing after-school services to inner city girls, many of whom were involved in the child welfare and justice systems. It was the experience of working with girls involved in the child welfare system that led her to Harvard Law School with the intent of becoming a children's attorney. During law school, she was Executive Director of Harvard Legal Aid and co-founder of the Children's Rights Project. Upon graduation, she received a Harvard Law School Public Interest Fellowship to work at Juvenile Law Center in 1987, where she worked as a staff attorney for five years.
Mangold was a member of The National Academies of Sciences, Engineering and Medicine's Committee on the Neurobiological and Socio-behavioral Science of Adolescent Development and Its Applications, which published "The Promise of Adolescence: Realizing Opportunity for All Youth (2019)." She has been speaking widely on the child welfare and juvenile justice reforms advocated in the report.
The Monument Trust
United Kingdom
Represented by Mark Woodruff, Social Development Grants Programme Manager, The Monument Trust, (1999-2018), and Grants and Projects Manager, The Woolbeding Charity & The Monument Fellowship, (2018-Present)
Awarded for its extensive philanthropic work carried out from 1965 to 2018, and which is currently being brought to completion by another of the Sainsbury Family Charitable Trusts. Its grants have benefitted a wide range of projects across the UK and in other countries and, in particular, projects which support children and young people in conflict with the law and at risk of social exclusion.
The IJJO commends the Monument Trust for contributing through these grants to the strengthening of crime prevention and the enhancement and promotion of diversion, restorative justice, innovative approaches for care, education and training during custody, and strategies for supporting social reintegration, among other aspects of juvenile justice.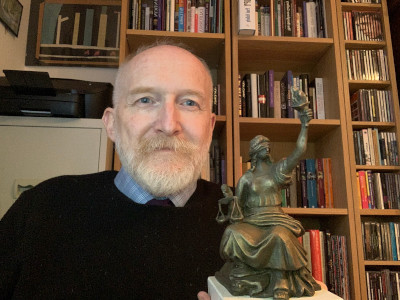 "The Trustees made it their explicit aim to keep young people out of prison and, if they do err, to ensure they never go back. For the next 20 years and more, Monument stepped up our investment in scores of projects, programmes and research in action, to improve on what prisons can do positively and how to put things right after, and even better, to reanimate the older wisdom of prevention; and motivating people all the way through, with a higher vision of how their future could be."
Mark Woodruff, Social Development Grants Programme Manager at The Monument Trust (1999-2018)
The Monument Trust
The Monument Trust was a grant-making foundation established in 1965 by Simon Sainsbury. It closed in 2018, twelve years after his death, but its work continues in certain legacy projects.
Over the years Monument's main support to charities, education and civil society went to the arts and heritage, as well as significant support to health and medical research, and to social renewal and welfare, especially for those who are homeless or struggling to resettle in society after prison. Monument had long been supporting youth work, so that young people, rather than fall victim to the effects of long-term unemployment on mental health, self-esteem, low aspiration in life, drug addiction and the risk of crime, could gain the skills and aspiration for purposeful and rewarding livelihoods.
In 1991, riots in an already dangerous estate in northern England laid bare the more widespread disintegration in very deprived communities between those who lived in them, the government and the police. They were sparked by the deaths in a police chase of two boys who had stolen a car. Numerous cars and homes were destroyed in the ensuing fires, as well as the community's youth centre, health centre and shops. While the government rebuilt the infrastructure, The Monument Trust joined other foundations in attempting to rebuild the social fabric through charities, including an attempt to create new ways of community policing and build trust where this had broken down, since people no longer felt that power, decisions and prosperity would ever include them: social exclusion. The mood in public discourse about Law and Order, however, was punitive. Thus in 1993 the Home Secretary declared, "Prison works", and incarceration was increasingly used as a swift remedy for social breakdown, the effects of the drugs trade, offending, and violence. It steadily became apparent that the "short, sharp shock" of a prison sentence with no solutions for underlying problems was no method for "scaring people straight" either. "Getting people off the streets" only worked for a short time, and when they were released in a worse condition than before, because of inadequate resettlement support, they were highly likely to reoffend and then be put back inside. With prison numbers rising, the more custody failed as a means for desistance from crime. It became clear that, once young people under 18 as well as young adults, were put into custody, their chances of escaping from their problems and the cycle of reoffending were narrowed considerably - effectively ending their prospects of happy and normal belonging to the world of family, work and realising their best hopes for life for years to come.
In the mid-1990s, Monument focussed on "keeping young people out of prison and, if they do err, ensuring they never go back". Building new relations between communities and the police was a theme running through Monument's work ever since, as new generations of police leaders captured the wisdom of front-line officers, that police who know their communities (and especially young people at risk) can solve problems, resolve disputes, win reparation for victims of crime, and broker some better solutions for disaffected young people than retribution, thus leaving arrest, prosecution and custody to serve in the last resort. Monument closed in 2018, but the "restorative policing" it helped to pioneer in the 1990s is used for training and management in a third of police forces and rising, as more and more evidence emerges that it was not only effective at lessens offending at the critical stages for young people, it is also reduces the harm of crime, because of its solid investment in communities' safety, social strength and their future peace and prosperity. Almost the last grant that Monument made in this field was to assist police chiefs to develop a systematic approach to reducing youth arrests and spending overnight in custody. Many of these young people were in care, or had been let down by the child and youth services that were using the police to manage problems with teenage behaviour, health, compliance with the courts, or even with the parental authority of their own care-providers. In the five years to the close of the last decade, arrests and needless nights in adult police cells were cut by three-quarters.
Research on the incidence of self-harm and suicide among children and young people in Young Offender Institutions revealed the distress of custody officers untrained in youth work. Over the years we have sought to bring in supplementary training for prison staff and support from charities, with special emphasis on young people's emotional development, using the arts, the enjoyment of literacy and work-related skills that offer motivation to realise aspirations in future employment. One scheme paired young people who had committed grave offences on long-term sentences, with peers in a local secondary school – they collaborated with the Benjamin Britten's Aldeburgh Festival on a music and visual image installation that toured national music venues and challenged views about young people in the justice system and their true potential. Central to the success of arts, mentoring and other schemes to rebuild young people's potential after custody is often, as in this case, dedicated officers who care about the young people in their charge and believing they can make a difference.
Monument had also found, as the year 2000 approached, that there was no formal national resettlement programme for juvenile offenders in custody, and so it set up a scheme at Portland Young Offender Institution that combined youth work, mentoring, education, training and relationships with prospective employers, to lead onto a place in college or a job upon release. This was expanded to work with young adults and, by the time Monument closed, it had been extended by our partner Khulisa UK to 20 institutions where children and young people are in custody. Khulisa came to us from South Africa, where it had a strong record of anti-violence work and restorative justice in schools and public services, as well as in stimulating local business and social enterprises, to fix and strengthen damaged communities. We noticed in the early 2010s that, while economic exclusion and deprivation were far higher in South Africa than in the United Kingdom, and offending rates among young people were similar, because of this venture – the name of which means "nurture" – desistance and successful resettlement rates were much higher than in the UK, with all its advantages. Its philosophy was based on the realisation that you cannot change young people's lives and prospects through the justice system, if you send them back into communities which are too broken to offer the vital prospects and hope they need. We wanted Khulisa to bring this dimension of piecing together close collaboration among different charities, government services, business and enterprise, coaching, inspiration and opportunity to the UK; and we are so glad that in a few short years it has made itself indispensable as a partner to other organisations and services, in making communities safer for young people to grow without fear from gangs, violence, drugs and crime, and to envisage a good future as something realistic.
Our largest, sustained effort towards fitting society back together in favour of young people was in Scotland. "Inspiring Scotland" is a remarkable collaboration of government, independent funders and business leaders. Its 14-19 Fund took over two dozen charities with a potential to serve 80% of Scotland's young people that had been hard to reach, so as to develop and spread them, and gradually to forge them into a concerted effort, so that no child or young person at risk would be far from a scheme or activity that could capture their interest and aspiration. The charities range from sports, fishing, motorbike repairs and construction skills to arts, music, fashion, radio in schools, catering and hospitality, care for those with disabilities, horticulture and rural land and farm skills. The largest foodbank in Scotland relieving the needs of the homeless and poverty-stricken is part of an Inspiring Scotland charity, operated by young people. The long-term investment approach we took with our other partners was vindicated when after eight and nine years, we saw the work coming together as it showed accelerated achievement by the young people in school results, entry to college and getting into fulfilling and confidence-building work.
In the same period, we looked internationally to the United States and to Spain, recognising that no one approach is the answer, let alone that we could find solutions on our own in Great Britain, since each individual young person at risk of falling on the wrong side of the justice system needs the intervention and support that is right for them, not just what is right from the viewpoint of the supply side. As in Scotland, we pursued the data and evidence, as to what might win the engagement and assent of young person to leave the justice system and find an assured path in regular society. In New York we came across the Center for Court Innovation. This realised that much troublesome offending in cities comes from people's difficulties or bad choices that were never properly addressed when they first began to go wrong, usually in people's youth. Instead of centralised police stations and courts, the Center set up community hubs, beginning with some of the most dangerous precincts in north America, with a judge and a court in the middle of them, but surrounded by access to all kinds of support, money and tenancy advice, health, treatment, education and family support. These problem-solving courts have the power to package any of these interventions into court disposals, usually far more effectively for personal reformation than the short-term and corrosive retribution of penalties, fines or prison. This makes all the difference to children and young people in trouble, who then regain the chance not to ruin their lives ahead permanently. A compelling element is the youth courts. These are projects in which young people themselves act in turn as judge, jury, counsel - but in a restorative setting to address each other's behaviour and offences in a problem-solving way as peers. Such problem-solving courts are now being trialled and embedded by the UK's Centre for Justice Innovation in England, Scotland and Northern Ireland, often building on some lost precedents from the youth courts and drug courts in the UK from the past. After years of preparation, we believe the Centre is on the cusp of seeing these support services around intelligent sentencing, bringing justice both to victims and survivors of crime in the community, as well as to people who cause it, many of whom are young people that until now had lacked true alternatives and opportunities.
From Spain we heard of Diagrama, the programme for young people in care or in custodial justice institutions from 14 years upwards, who responded well to not being repressed by a prison regime but by smarter nurture. Diagrama' "re-upbringing" of young people confronts behaviour and offending squarely, but relies on a pedagogy no less demanding for being based on a positive, loving, pro-child environment, with incentivisation coming from a fair and engaging balance of consequences and opportunity. In a country that has had a 50% youth unemployment rate, we were intrigued how children and young people going through Diagrama across Spain were not only achieving educationally, but were also doing well at getting into college after release, or were so successful at winning good employment, as this significantly improved desistance from re-offending in turn. It was down to the warm motivation of the approach, and to the positive relations built up with supporters of the local Diagrama centres, and potential employers. In England, Diagrama's programme has been making a difference to the provision of care homes, whose children and leavers are still disproportionately represented in the justice system. It has been in repeated demand from government for advice to design and supply an appropriate system of secure centres for vulnerable children in custody, as well as a fresh approach to Young Offender Institutions, after repeated public service failures in the past. We have strongly backed Diagrama UK for years, in the hope that government will move from seeking its advice to asking it to provide the same service in Britain, taking "off the shelf" something that is proven to be so transformative and hopeful in Spain. It takes years of building trust, good examples of practice, and vision, and this something to which Monument was always committed, especially when the cause was not always at first popular.
With the coming closure of The Monument Trust on the horizon in 2016, Stewart Grimshaw, its co-founder with Simon Sainsbury, and the other trustees were conscious of a very tangible legacy in the art, galleries, museums, great houses, artefacts and music and performance institutions that it had invested in for over half a century. A final flourish will be a magnificent kinetic glasshouse designed by Thomas Heatherwick and his studio to tell the story of the Silk Route in gardens with plants from south west China across Asia, to the Mediterranean and Istanbul in Europe. There will also be a legacy in health, particularly in the fields of HIV/AIDS, Parkinson's Disease and Palliative Medicine. But what of a legacy in the work and "social renewal" that Monument wanted to see in the lives of people, especially young people?
We therefore invited eight bodies working at the decisive points along the potential "Journey of an Offender" to form a core Monument Fellowship, a five-year funded programme to concert all our efforts and values, around a shared manifesto of aims and tested practical solutions. This work is being curated by The Woolbeding Charity, the residuary trust for Monument's remaining work. Thus we hope that what Monument always worked for can stand together, convene many other partners who share our outlook, and thus provide a powerful and persuasive voice into the future. The Monument Fellowship is:
Restorative Solutions, providing training and advice on how to operate restorative justice in the hands of police, schools, youth services, and for crime victims
The Centre for Justice Innovation, in problem-solving courts, to address the underlying causes and effects of offending, relying less on counter-productive short sentences and investing in people's future instead
Diagrama UK, with a nurturing approach to young people in custody and the care system, showing we can clearly reduce re-offending rates, and build high achievement in education and future entry into motivating jobs instead of prison
The Good Prison, from the social researchers Lemos & Crane, offering training and advice for prison governors and staff to rethink how they can operate their prisons and youth custody, and also harness the potential already embedded in community and creative organisations
CLINKS (Community & Prison Links), the deep and extensive network of civil society organisations working in prison and after release towards the permanent resettlement of ex-offenders of all ages
The National Criminal Justice Arts Alliance, the network of charities promoting arts and creativity among those in custody or at risk, because Monument always believed that arts elevate the mind and spirit, and can transform people's sense of who they aspire to be
Khulisa UK, building partnerships and new services to give a local society a vision of "what it looks like when it's fixed", and showing a young person's true place within it, to the removal and exclusion of none.
We wanted to distil the cumulative wisdom from those that we have worked with over many years, relying on the crucial lived experience of those who have gone through the system, including those young people who have effectively grown up in it. Could we provide a comprehensive response to public anxiety about offending, the justice system, and the offenders caught up in it? Each year we have asked ourselves and our networks an open question, and then assembled the diverse and compelling responses in a book. So far we have asked,
What do prisoners and ex-offenders need to learn?
How can we be a less violent society?
What should happen to people who commit criminal offences? And
What role do kindness, hope and compassion play in a criminal justice system that can be successful because it is humane?
Next year, we shall come full circle, to Monument's original and abiding concern for keeping young people away from incarceration and ask:
What could fair justice mean for children and young people?
Together these books of first-hand experience, expertise and reflection from hundreds of voices will constitute an almost unique body of understanding to account for what a constructive justice system can be, for the sake of those who pass through it, especially the young, and not least for those on the receiving end of crime, who even more want it to stop, and want young people to have a positive life ahead instead.
We are very appreciative that the International Juvenile Justice Observatory has recognised the objectives that The Monument Trust pursued and the work it supported over many years. Now that it has all been entrusted to the members of the Monument Fellowship, and their friends and collaborators more widely, the award is a great encouragement into the future, as they seek to ensure that it forms a lasting contribution to Britain's social development and renewal: "by keeping young people out of prison and, if they do err, ensuring they never go back."
Mark Woodruff
Social Development Grants Programme Manager, The Monument Trust, (1999-2018), and Grants and Projects Manager, The Woolbeding Charity & The Monument Fellowship, (2018-Present)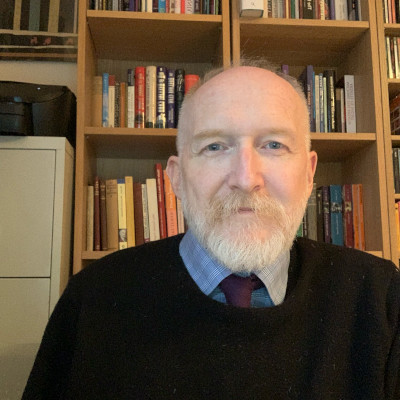 Mark Woodruff has lifetime of work and experience in the provision of community, education and pastoral work in the North of England and London. He came to the Sainsbury Family Charitable Trusts in 1999 to lend an insight into what it was like for communities on the receiving end of both philanthropic interventions and public service. His work for the trusts has focused on youth work, education, arts, and social inclusion, with a clear focus on prisoners and young people at risk of offending, to enhance desistance from crime and lasting rehabilitation and resettlement.
In the University of Durham, he is Fellow and Chair of St Chad's College, which was founded in the early twentieth century to provide access to higher education for those without all the qualifications needed by other universities to begin studies and train for their future pastoral work. To this day, St Chad's is open to all disciplines, and is dedicated to widening participation and inclusion. It encourages its students in all walks of life with a spirit of service and putting something back into wider society.